When planning to build a kitchen or rebuild an existing one, one of the important elements is to get the best sink for your kitchen. The options are pretty much endless when it comes to buying a kitchen sink. We all make sure to find one which looks great in the kitchen space and increases the whole appearance of the kitchen. Though there are many options, if you are in confusion, a quartz sink can never go wrong. Many quartz sink manufacturers build amazing kitchen sinks in different sizes, designs, colors and much more. The list for selecting the right material goes long but one should be clear about their needs and choices to make the right choice.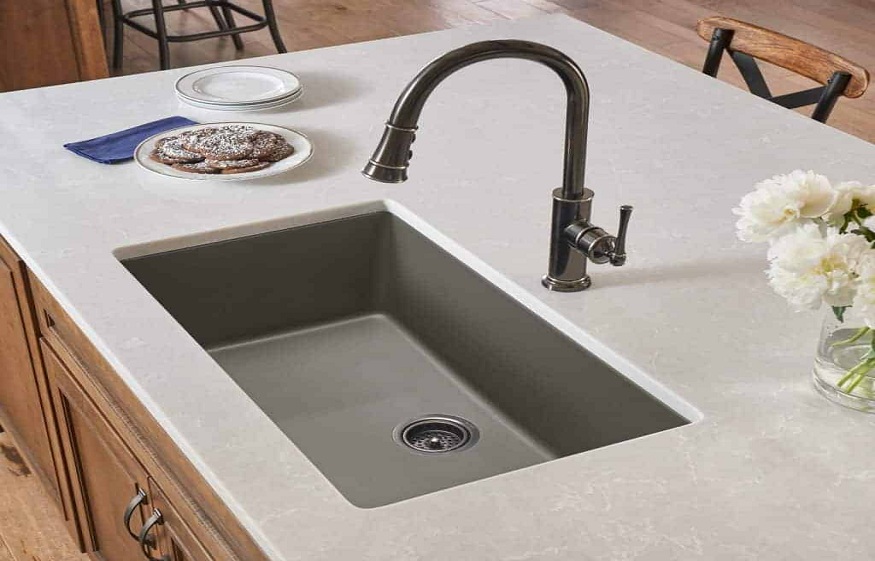 Quartz sink is the safest option to go for in terms of durability, style and price. If you have a quartz countertop, you can go with a quartz sink as well. Granite is also one of the options for sinks but quartz is always considered above it. In terms of price as well, granite is much on the expensive side. Also, for maintenance, quartz is easy to maintain as warm water and gentle cleanser are enough to clean the dirt. It does not stain and is very much durable. Quartz sink comes in various color options like white, rose, black, gray, blue, red, brown and cream. You can go with a contrasting color or keep the monochrome look of your kitchen. You get a variety of textures and patterns in quartz sinks, so you can easily choose one as per the requirement. While choosing the quartz sink, make sure to get it from the right expert manufacturer. Seek help from them in case of any confusion as they are aware of the trends going on.
Following are some of the benefits of choosing a quartz sink:
Durable- There is no doubt that quartz is quite durable in comparison to the other options. These are not prone to scratches and stains. You can use it roughly without worrying about breakage or scratch. This ensures that the quartz sink will go in the long run and will be worth every penny of yours.
Hygiene- Know that quartz is non-porous which means it will not allow any liquid to enter the surface. This reduces the chances of any build of bacteria and germs. Also, it will leave the kitchen neat and clean. There will be no bad odor as no particles will be stuck in the sink surface. This will help in maintaining the hygiene of the kitchen.
Soundproofing- In comparison to the stainless steel sinks, the quartz sink does not make much noise from the running tap, banging dishes etc. Stainless steel sinks make water noise which seems very bad especially when guests are around.
Updated designs and variety of choices- There is no doubt that quartz sinks have plenty of designs to explore from. There are a variety of colors as well so you can easily choose them. You can easily choose one which suits your kitchen decor. You can get it in any size as per the kitchen space.
Affordable- Know that granite is a much more expensive option whereas quartz is less expensive. It makes quartz sink quite affordable and a reliable option.
So above are some of the benefits of choosing a quartz sink. You can easily find quartz stone kitchen sink manufacturers online. Make sure to choose a reliable one that provides good options with a warranty. Go through their online space to know more about their work and past projects. This will help you to make an easy choice.
Following are some of the points to consider while installing a quartz sink in your kitchen:
Choose the right color- To make the quartz sink look nice in your kitchen, you must choose the right color. The right color will make the whole kitchen look good and appealing. Always consider your home decor while looking for color options. You can go with the monochromatic look or go in contrast. Just make sure the color contrast goes well. In case of any confusion, do not hesitate to seek help from the manufacturer while selecting the right color.
Space- There are many types of quartz sinks like the drop-in sink, mount sink, farmhouse sink, wall-mounted quartz sink, commercial quartz sink, bar sink etc. As per your kitchen space, you can explore these options and select one. The sink should not be that big or small and should perfectly sit in the available space.
Size measurement- Always know the estimated size of the kitchen sink. This will help you to select the design accordingly. Properly measure the size and then select the quartz sink. It will be of great help at the time of installation as it will avoid the things like wastage of time in cutting the slabs as per the size.
Plywood- Before installing the quartz sink, make sure to ensure the weight of the sink. In case the weight is more, getting support from plywood is a good option.
Budget- Always look for the prices from different manufacturers to know better. This will help in getting clarity if you are paying more or less. Though never fall for extremely low prices as these might be of poor quality. Remember that investing in these is a one-time investment for your kitchen.
So above are some of the points you should consider while installing a quartz sink in your kitchen. Know that your kitchen deserves a good counter top and sink. So make sure you choose the best one for your kitchen. Explore the colors and varieties to get the best. You can contact Quantra Quartz as well as they are the best manufacturers of quartz counter tops and sinks for your kitchen and bathroom. Always choose those manufacturers who have all the required certifications and comply with the industrial standards. In case you are looking for a quote, you can contact them online.